Subtitling, voice-over, and translation projects require perfection. A single misspelt word can have a huge negative impact on the project's success. This is one of the reasons why so many companies today rely on the services of a professional voice-over agency.
GoLocalise is the leading translation, subtitling, and voice-over agency in the UK. Over the years, the agency has worked with clients around the world providing voice-overs, subtitling, and translation services for video games, mobile content, advertising, e-learning, and television projects.
Audiovisual translation makes a product consumable and accessible to people in any part of the world. For corporates, filmmakers, educational institutions, and brands, professional translation services can help reach untapped foreign markets.
GoLocalise has a team of experts that can accurately and effortlessly help you transcribe, translate, create subtitles, and edit captions for a variety of projects. The stringent quality assurance processes in place ensure that each project is accurate according to industry standards.
Most videos on social media platforms are viewed without audio. Adding subtitles to videos ensures your videos are consumed and accessible even to those who are hard of hearing. Subtitles can be easily adapted to different languages.
GoLocalise's award-winning subtitling service can help you make a promotional content, film, e-learning course, and presentations consumable in any language. Each project is managed by in-house professional subtitlers to ensure accuracy.
Whether it is video games, websites, online ads, e-learning courses, or TV, adding professionally created audio can make your content more impactful. The right audio has the ability to bring your videos to life so you can communicate with your audience and make your content more immersive.
An English Voice-Over agency like GoLocalise understands how crucial it is to find the right voice for each project. Other than English (British, American, or other accents!), our talent pool includes artists in over 300 different languages. Regardless of your language choice, our voice-over agency can deliver nuanced, polished voiceovers for your project.
International Voice Over Agency: Any Language and Accent
When it comes to voice-over projects, it is vital to ensure your message is clear and easily understood. The right narrators and voice actors are crucial for the project's success. The tone, voice, and accent of the actor need to perfectly match the project (learn how to get a perfect British voice-over).
GoLocalise has the resources and talent network to work with over 100 languages. Professional language directors ensure that the pronunciation, delivery, and intonation of each script are accurate. Here are some of the top languages that GoLocalise works with (in each link you can listen to voice demos in each language):
GoLocalise is not just a UK voice-over agency, but a full-service localisation agency. Other than voice-overs, the agency offers a wide variety of other languages integrated services to help you adapt your audiovisual content to suit the needs of your global market.
Audiovisual Translations
GoLocalise's audiovisual translation services can re-version your audio and video content to help you promote your content to new markets.
E-Learning Courses: Translate your e-learning courses so they will be accessible to students in any part of the world.
Film Scripts- Professional translation services can localise your film scripts to widen the reach of your film to audiences in untapped markets.
Audio Guides- Audio guides and courses can also be localised to a language of your choice to make them more engaging for listeners.
Audiobooks- With the increase in usage, translating audiobooks into different languages can increase the popularity of your books.
Video Games– On-screen graphics, texts, and captions in video games can also be localised so users can choose to engage with the game in a language they prefer.
Corporate Videos- Corporate video translation is particularly helpful for companies with a global presence. Instead of making multiple videos, the same video can be localised to make them suitable for different geographical locations.
Subtitling
GoLocalise offers subtitling and captioning services so you can add subtitles to promo videos, feature films, educational videos, business presentations, and more. In-house project managers and subtitling professionals help deliver cost-effective, all-inclusive services to localise your content.
Transcription
If you need a written transcript of your audiovisual content in the same language, GoLocalise's transcription services can help. Our Voice-Over Agency London has a team of expert transcribers who can transcribe your content and deliver high-quality text.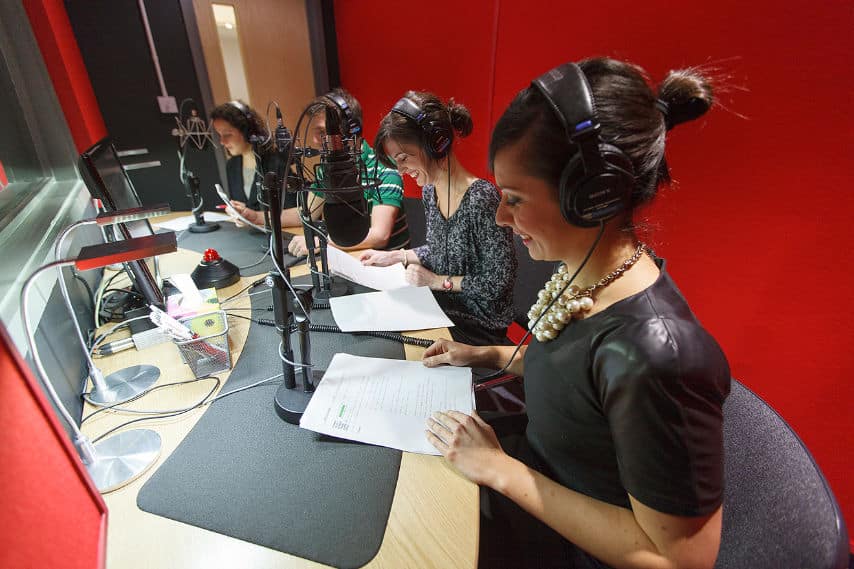 GoLocalise Voice-Over Agency has two professionally equipped, state-of-art voice-over recording studios in the UK. It has access to advanced software and top-of-the-line equipment to help deliver stunning results for each project.
Here are a few more benefits of choosing GoLocalise's recording studios:
Specifically Designed Studios
Not all recording studios are the same. For professional results, it is important for a studio that specialises in voice-overs. Our voice over studios London are designed specifically for this purpose with proper soundproofing and acoustic treatment. The size of the room and building materials are also specifically chosen to deliver excellent results.
Quality Equipment
To produce voice recordings of high quality, the equipment used to be high quality. The headphones, monitors, workstations, digital converters, preamps, and microphones are all important elements that can impact the quality of the final product.
GoLocalise's voice-over studio London is equipped with top-of-the-line equipment such as Focusrite Octopre MK2 preamps and Avid HD Omni digital converter to help produce a variety of recordings. Experienced and skilled sound engineers use this equipment in the most effective way to work wonders.
With industry-leading equipment, GoLocalise can deliver the highest quality of audio for your recordings.
Software
The software used for producing audio is just as important as the equipment used. Whether you need unedited files or a ready-to-use end product, GoLocalise has access to professional recording and editing software to deliver excellent results.
GoLocalise uses software like Logic Pro, Audition CS6, Final Cut, and Pro Tools HD11 for seamless recordings and polished editing that gives all projects a professional finish.
Sound Engineers
GoLocalise has in-house sound engineers and project managers with expertise in dealing with a diverse set of projects such as video game audio, audiobooks, IVR recordings, lip syncs, commercials, and much more. These skilled sound engineers know how to get the best results for your project.
Learn more about how to choose the best recording studio for your voiceover video.
This Voice Over Rates Guide is helpful!
Do not hesitate to contact our English Voice-Over Agency!