Christmas in Norfolk, England
Yayyy Christmas!
I come from a large family who are spread out across Europe, so we meet up for a weekend in November to celebrate and I get to enjoy December with the smugness of having brought all my Christmas presents and a bucket full of turkey and roast potatoes in my belly. This years festivities were the usual melee of feasting, tea drinking and restraining five eager children from attacking the stash under the tree. The task of feeding the five-thousand (in fact only seventeen, even though the number of pigs in blankets might suggest otherwise) is rotated each year to avoid anyone collapsing under the pressure of delivering the most important meal of the year! It's also hilarious, ridiculously fun, incredibly tiring but most of all it's what Christmas is all about to me – family (and food…)
By Tizzy Mann
Christmas in Colombia, South America
Colombians take Christmas very serious, it is seen as a festive time where family and friends gather to enjoy each other's presence and good energy. In my town, it is almost traditional to close most of our roads so that our neighbours can gather in their neighbourhoods and enjoy a vast amount of traditional food! We also tend to stay up all night partying, but this is nothing compared to how we party for New Year's which often lasts 3 nights. We have fireworks, Christmas lights, and festive music to last throughout the whole of December.
By Brandon Londono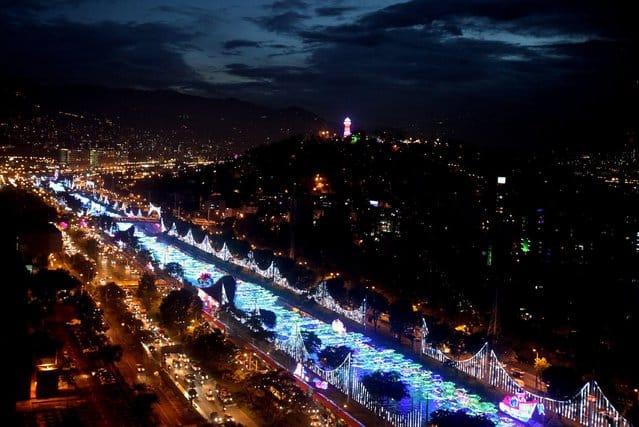 Christmas lights over the river in Medellin, Colombia.
Christmas in Essex, England
It seems that our lives get busier and busier every year. For me, Christmas is one of the only times a year when I know that my whole family will be together. Although I am not a Christian, I think Christmas is about reaching out to friends both absent and current and it inspires me to try to be a better person. I want to roast chestnuts by an open fire, I want to feel that crunch under my feet when I walk in the snow, I want to greet carol singers at my door and spend a few moments enjoying their harmonies. This is a little taste of my English Christmas.
By David Hayhow
Christmas in Spain
In Spain, however, Christmas is a bit different. For our European neighbours, the Christmas period officially starts on December 22nd, with the National Christmas Lottery. On this day, everyone gathers around their TV at home or at cafés with friends and family to watch it live, with the hope of ending the year a little bit richer than how they started it.
After this, Santa Claus, or Papá Noel, as they call him over there, makes his big appearance on the night of the 24th. This is a night when families get together to eat, drink and enjoy the company of the loved ones. Depending on the families, he might or might not leave some presents for the little ones by the end of the night.
But there is not time to rest! On the 25th, everyone gathers again for lunch – because we all know that mum's food always tastes better the day after!
By Aída Martín
Christmas in Spain
Although traditionally not similar, el Día de Navidad seems to be becoming more and more like Christmas in America. Presents are typically given on the 6th of January, but as children's break from school begins a few days prior to Christmas Day, many families choose to give their children their gifts on the 25th for practical purposes, as that way they have much more time to play with them than if the family waits until el Día de Reyes. Also, the figure of Santa Claus, referred to as Papá Noel in Spanish, is becoming more popular in Spanish society, and some even believe this will eventually replace the Reyes Magos as the primary gift-bearer during the Christmas holidays. Just like Nochebuena, el Día de Navidad is a family-oriented celebration, typically consisting of a meal shared together, including delicacies and special holiday foods.
By David Garcia-Gonzalez
Christmas in Burgundy, France
Christmas is definitely the most wonderful time of the year for me. It has been since I am a little girl and the magic is still in the air and I love every moment of it. In France, most of Christmas is spent eating and drinking – and this is true on Christmas Eve and Christmas Day…! At least, this is how it is in my family. We have a 6-course meal on Christmas Eve! Yes, that's right, SIX courses! We start with "l'apéritif" – smoked salmon and foie gras on toast, and other delicious amuse-bouches. We then move on to the seafood platters and our beautiful "escargots". The main course then comes and we normally get about 4 side dishes along with the meat. Then, my favourite of all, the cheese platter! And lastly we share the "bûche" (Yule log) and some delicious almond-stuffed dates that my Grandma makes and to make her happy and keep up the tradition, we often go to the midnight Mass together. It's really all about being together and sharing all this Christmas magic as a family.
The morning after, on Christmas Day, I wake up with my little sister and my parents to a beautiful tree surrounded by tons of presents. This is a very precious time for us, as we are all together, and there's only joy and love in the air and smiles on our faces… and sometimes even a few tears. My only wish is to always be able to enjoy Christmas with my family the way we always have.
By Léa Paradon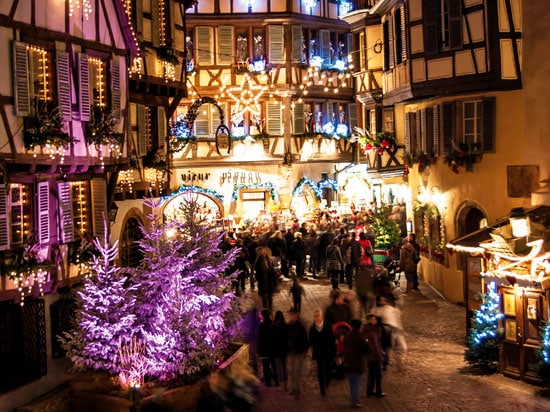 Christmas in Burgundy, France.
Christmas in Guastalla, Italy
For me, Christmas is a very special time of the year. I know that, no matter what, in one way or another, my whole family will be together. For example, I remember that my first year in London I couldn't go home for the Christmas holidays, so on Christmas day my family called me on Skype. They had put the laptop at the table so we could have our Christmas lunch together, even though we were so far away! Also, Christmas for me means food, a lot of food. Everything starts the morning of Christmas Eve, when my grandma prepares cappelletti for the cenone della Vigilia ("Christmas Eve's big dinner"). On that night, we also eat a lot of fish and have panettone and/or pandoro (depends on how much space you have left in your belly!). The following day, we usually gather at my grandma's place to have a big Christmas lunch. Her lasagnes are really the best! After the lunch, we open the presents. As my birthday is on December 18th, I get double presents, which is always nice! We then spend the rest of the day playing very funny (and very old) board games.
By Elisa Zilocchi

Christmas in Spain
When I think about my Christmas in Spain, the first memory which comes into my mind is waking up on the 22nd of December, switching the TV on and watching some kids picking up balls from the inside of a giant drum and singing the numbers of a millionaire prize! That's how Christmas starts in Spain, everyone is paying attention to the TV or to the radio and hoping to be among the lucky people who will win the lottery! Unfortunately, I have never been one of those lucky people, but hope is the last thing to die!
Rather than Christmas' Eve I do enjoy more New Year's Eve. In Spain we have a tradition and you must eat a grape at each stroke of the bells at midnight, it brings you good luck! And I can assure you it is not easy at all to eat 12 grapes in 12 seconds, but it is definitely great fun!
By Sara Aguilella
To conclude, as you can see Christmas is pretty much the same in all corners of the world. Of course there are different alterations that have been implemented by different cultures and traditions, but all in all Christmas is still carrying the same message everywhere you go, which is "Happiness". Whether you speak a different language or have different customs, religious or not, the message is kept consistent which is what is important!