Do you know the meaning of the expression "Chancing Your Arm"?

Let me introduce you to an idiom which for me sums up the value of taking measured risks in life: chancing your arm. Reckless is futile, but as Gearóid FitzGerald demonstrates in this little tale, when you learn to read the situation, what seems like a big risk is well worth the reward of victory.

In the fifteenth century there were two Anglo-Irish families, the Butlers and the FitzGeralds, who were constantly fighting each other for territory and the right to rule. In 1477 Gearóid FitzGerald became Lord Deputy at Dublin Castle, making him one of the most influential men in the land. This stirred up even more angst and rivalry between these warring factions, and it all came to a head in a pitched battle in 1492, just outside of Dublin. Some senior members of the Butler family took refuge in the Chapter House of St Patrick's Cathedral, claiming sanctuary and calling for a ceasefire. Gearóid stood outside and promised that if they came out, he would grant them safety and free passage in return for their surrender. So great was the feud that they didn't believe his words, so in a last ditch effort to show good faith and end the fighting, Gearóid demonstrated an act of extreme courage.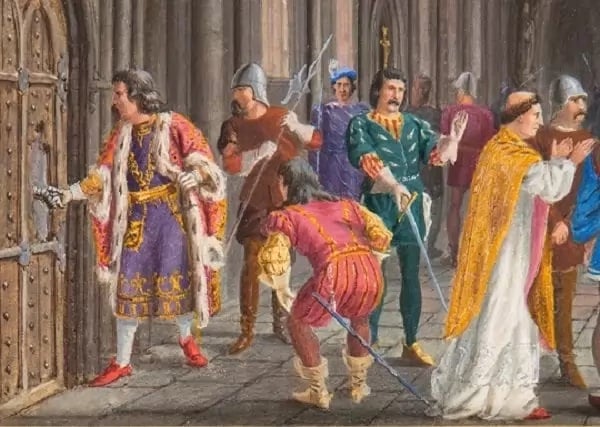 He took an axe and smashed a hole through the door, just wide enough for his arm. He then stuck his whole arm through so he and the Butlers could shake hands on the deal, giving the Butlers the opportunity to chop it off – if they had wanted to. Hence the expression 'chancing your arm' became part of the English language.
Extract from the book "Child-biting, Chorizo and Chancing your Arm". If you want to read on, get yourself a copy HERE.